Photo: Enguerrand de Lapparent
"It wasn't that official, it was more like… punk."
–
a conversation with Denica Milusheva.
By Hanna Gjelten Hattrem.
Denica Milusheva describes herself first and foremost as a visual artist, unbound to any one medium. Her works are often situated in the public space as installations or interventions, and shows a sense of connectivity with her surroundings that translates into her creations. She comments on our psychological and physical relationships to the spaces we inhabit in our daily lives, and the bodies we move through them with.
"First I am working as an artist. I don't have so much time for it, but still, that's my focus."
Second, after artist, is her role as a facilitator. She has been an active agent in developing platforms and opportunities for young artists to exhibit and communicate their work to an audience in the Veliko Tarnovo area.
Originally from Yambol, Milusheva moved to Veliko Tarnovo to study at the Faculty of Fine Arts, and is currently pursuing a PhD on methods of teaching in performance art. Her academic accomplishments are only one of a host of projects she finds time to engage with, and we only begin to discuss her PhD towards the end of our conversation. As a facilitator she manages the
Radikal Gallery
exhibition space, attached to sculpture department of the University. She also works closely with Galin Popov at the multipurpose bar and cultural event space,
TAM
, in Veliko Tarnovo. This was in fact the place in which me met for our conversation, whilst surrounded by the occasional early visitor to the bar, delayed beer deliveries, and Galin lounging in one of the sofas.
Her most recent work,
"Your body is death given",
has been displayed at
TAM's
contemporary art initiative:
"12m Art".
Martina Yordonova curates the space, and as the name would indicate, challenges the artist to create work that is purposefully confined. Milusheva's response to this is a curious acknowledgement of the spatial constrictions, considering the association to coffin-like, small spaces. The installation shows a gravestone engraved with the work's title, with an ivy wreath above it. It offers an argument against the pairing of death and morbidity. Her message demonstrates an acceptance regarding the finitude of life and our material and bodily remains. Your body is precious, but death and decay is natural. Adjacent to the 12m space are two cartoon drawings of fitness-styled body-building characters, which, coupled with the installation, comments on dangerous obsessions with body image, our exaggerated concern for appearance and how we are perceived. The gravestone and wreath reflect on acceptance and appreciation of one's body and it's finitude, which speak to the opposing drawing about our relation with lived life.
In 2016 Milusheva started looking at relics of the past in the form of missing sculptures and monuments, where only the pedestal remained. Most likely, the missing sculptures depicted leaders and figures connected with communism, removed in an attempt at erasing their history and presence in the urban environment. Attracted by the contradiction of a pedestal without sculpture: an object that has no other purpose of existence than to present and elevate a symbolic piece of art, Milusheva began searching for and documenting these types of objects. It's as if she saw it as an invitation to decorate the pedestals herself – as if it were an empty stage or unused exhibitions space. She photographed herself in absurd poses on and around empty pedestals found in Veliko Tarnovo, and made the images digitally available via a QR-code attached as a plaque on each pedestal.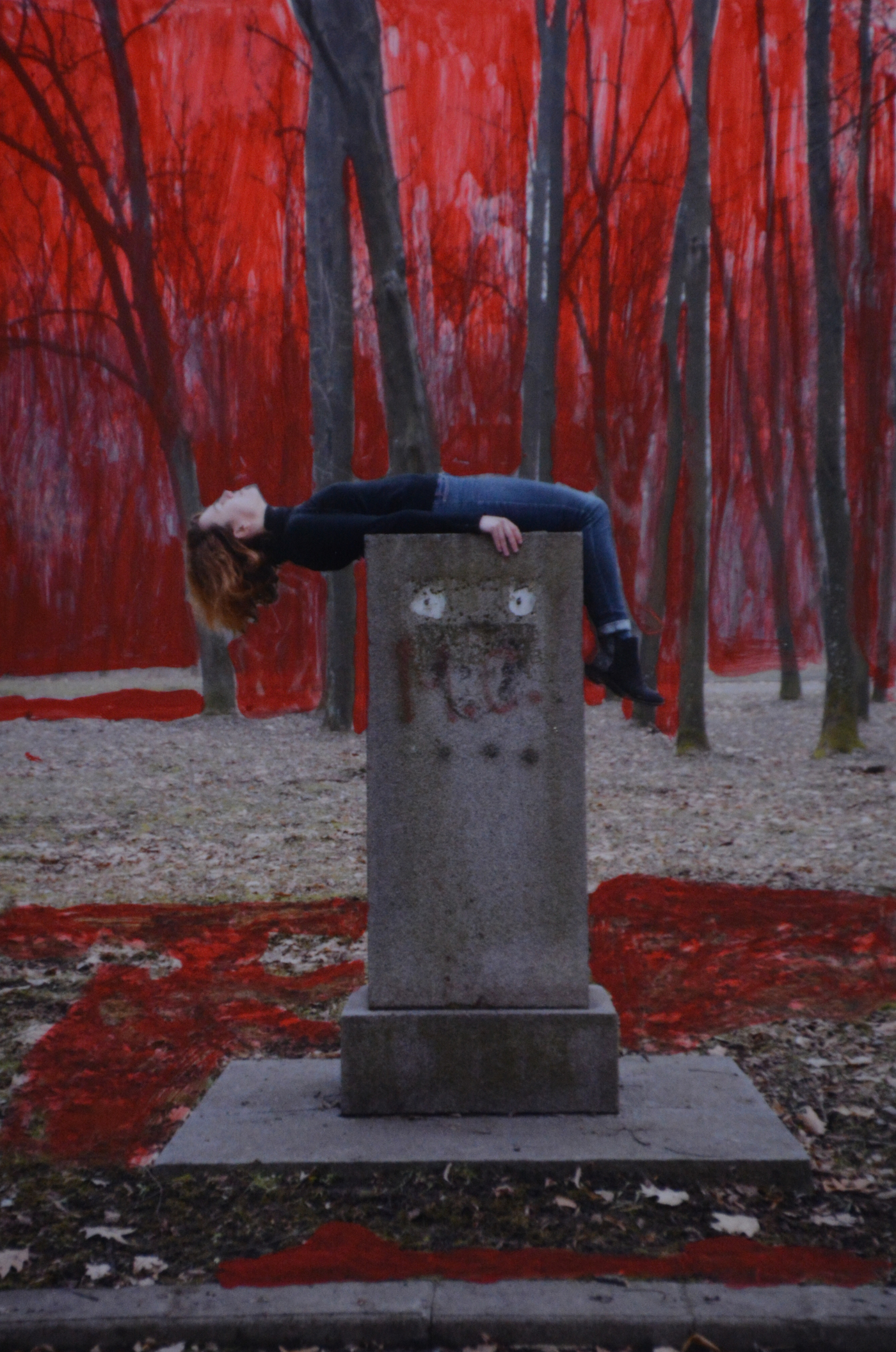 Denitsa Milusehva
Revolt of the Body
, 2016 /
Revolt of the Body
, 2018. Image courtesy of artist.
"What was motivating for me was that these things are all around you, and people are free to transform them, this is part of your environment, it stays there, and if you are part of the city, if you are living there, you are free to transform it any way you want."
In
"Museum of Emptiness"
(2015), she documented derelict and deteriorating houses in and around Veliko Tarnovo where the windows and doors had been sealed off. Most of these houses are located in the Old Town, Varusha, which is also the most touristic area of the city, and representative of its characteristic architecture. Some of her findings were translated into sculptural representations of sealed spaces where what was once an inhabited home, was now sealed off, access denied. Artefacts and photographs accompanied the sculptural interpretations of these places, many which have by now disappeared, into a museum of empty, forgotten and forbidden spaces.
"Every time period in Bulgaria has totally different ways of building, and they don't connect with the next one at all. They just destroy old things and build something new, which is interesting and I think you can tell a lot about the Bulgarians from this. We probably just don't want to think about it, and we don't want to face it or to understand it, and it's not bad or good. It's like just this."
Denitsa Milusehva
Your Body is Death Given
, 2018. Image courtesy of artist.
--
Hanna Gjelten Hattrem: How did you start working as a facilitator?
Denitsa Milusheva: It's interesting for me to help others, and I started by trying to motivate myself, and friends to work as artists. To produce exhibitions and events in places or cities where the interest seemed low, where you wouldn't think it would be possible to do these things. So for me it's as important as my own work, to somehow help other artists, to create environments for them to feel good and to express themselves. It's about how you build your community of people who understand it, see it, who want to see it. And also how you find a way to show it to other people. So I've been trying with different things.
Some friends and I started working with
Radical
. We had already graduate, and the project was for the younger students. It was really important to give them the experience of organising and creating an exhibition. Because mostly what you're doing as an art student is learning how to make objects. They had never had the experience of standing in front of others and talking about their works. And this was a big challenge because some of the students didn't understand that the most important part is not only the work, but also how you present it.
H.G.H: How do you think the public are able to engage with the art that is being produced in Veliko Tarnovo?
D.M: I think one problem is that the art or the exhibitions that are produced are not that visible for people outside these groups. We wanted to do different works in the public space and to challenge people to look to the artist and to see that art can also be outside. That it's part of life and not just something that stays in exhibition halls, reserved for people who tend to visit them. What we found from this experiment with using the public space is that it's not that people don't have an interest in art, but they don't know where to find it. Or even if they know that there is an exhibition space they're hesitant because they think it's a place for a certain group of people, and worry that they don't understand anything about art, that they can't speak with those people. Which I think is everywhere. So I think we need not only more exhibitions spaces, but also people who are writing about art, all these things that are connected, that are not only exhibitions.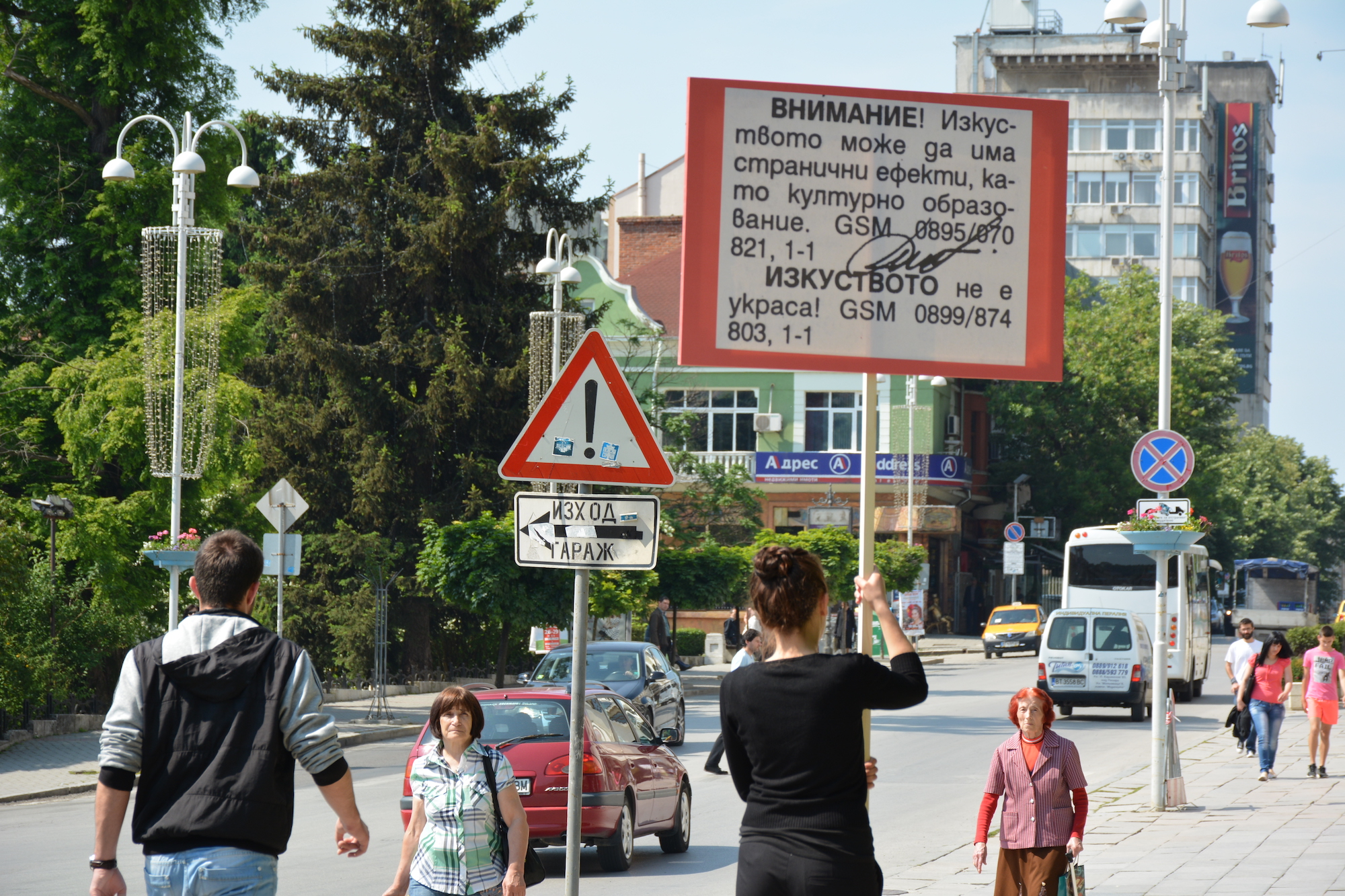 Denitsa Milusheva and artistic collective Mnogotochie.
Anticonformity and Art
, 2016. Image courtesy of artist.
H.G.H: I know it's a very broad question, but could you say something about what is going on in the art world in Bulgaria?
D.M: I've noticed that there are a lot more opportunities for young artists. Ten years ago it was quite difficult for young artists to make exhibitions, they were not invited to show their work at bigger events. But now there are some exhibition spaces that are inviting especially or only young artists, or curators that organise exhibitions mostly with young artists. This has also really changed how artists work. Now they really think about their artistic practice, how to explain it and to have their own way of doing art.
The other thing is that young people know what is going on around the world. They are travelling and seeing different exhibitions in different countries. There's not a big difference now between Bulgarian artists and artists in other countries.
H.G.H: A lot of young people choose to go abroad to work or study. Do you think there is the same desire amongst people who work in the cultural sector, or are people interested in staying here, and building on what's going on culturally here?
D.M: In the last few years I've noticed that people are more interested in studying abroad, but want to come back and work. A lot of people that I know, who have left to work or to study, are now back and want to stay here. Not only to work, but also to develop the city they live in, or to start something here. They leave to develop themselves, they learn new things there, and want to bring it back to Bulgaria and share it with others.
H.G.H: What about you?
D.M: I went abroad to live in a few places, mostly for half a year. I met a lot of people from different countries who had different interests, and they were really motivated to do things. Which, when I came back to Bulgaria, was something that I really missed. For about half a year I was between going again, living somewhere else, or staying here. At the beginning it was really hard somehow. It really depends on what kind of people you are meeting every day. If you're surrounded by the right people, and if you're motivated to stay and do things here, then it's fine. So I can say that I'm here and happy to be here because of the people that I have around me. I'm seeing a lot of people motivated to live here and to do things. This is also something that gives me hope, and makes me feel like I'm in the right place. And I don't really feel that big of a difference now. When I came back after the first time I was abroad, I felt like, "Oh, it's so different there, the city, the education system, the people, everything…" But now I don't feel that difference. Still, there are things that are not right when you meet with institutions and speak with people in official positions. But that's not the only thing in life.
H.G.H: What do you think are some differences between Sofia and Veliko Tarnovo in terms of the art scene?
D.M: Of course, you have many more galleries. But it is already occupied by a group of people and artists, so for me what is interesting in Veliko Tarnovo is that you feel that with the things that are growing now, you have an opportunity to build it by yourself and to build it in the way you'd like it to be. You feel freer somehow. It's not like it's easier, but you have that freedom to do it by yourself. I believe that the city needs this, and the people who live here need it too. I know people around me who believe in this and want to do something. I have a feeling that there is something growing here.
H.G.H: What do you think can help encourage this thing you say is growing in areas like Veliko Tarnovo?
D.M: I think it is important to talk about whom is standing behind, not only the artistic side, but also managing and organising: the people between the artist and the public. For many artists, taking this initiative to create events, to promote yourself, is really tough, and many artists can't do it. Which is not bad a thing, the work of the artist is to do art. Of course if they can manage to do the other things as well, like to promote themselves, and spend time meeting with the right people, this takes a lot of time, but if you can manage it that's great. But some people can't do that and that's normal. I think there is a need for other people who are motivated to bring these artists out and to make them visible.
But also to talk about why people want to start different projects in Bulgaria. It's quite hard sometimes in Bulgaria, because the institutions are not prepared for it, they are not used to it. So it's a big challenge, but it's also important and that's why I think people should see it. Many may have had a chance to be a part of this kind of community, or are used to having exhibitions and events around them. When they come back to cities like Veliko Tarnovo there isn't as much on offer. The only way then is to do it by yourself. To bring these artistic people here. I think that is the biggest motivation for people. If you can't live without all these things, but you are living in this place, then you need to create it by yourself to feel good where you're living.
/ /
Denitsa Milusheva (b. 1992, Bulgaria) lives and works in Veliko Turnovo in Bulgaria. Milusheva holds a BA and MA in Fine Arts Sculpture at the University in Veliko Turnovo, where is also currently working on a PhD. Her exhibitions include
Young Artist We Should Follow
,Credo Bonum Gallery and Goethe Institut Sofia Bulgaria (2018),
Close Encounters – Visual Dialogues,
Institut of Conteporary Art Sofia, Bulgaria (2017),
M 1:1New Social Realism,
Union of Bulgarian Artists , Sofia, Bulgaria (2017),
23 Biennial of Humor and Satire in Art,
Museum of Humor and Satire Gabrovo, Bulgaria (2017) and
Kat Padania ≠ Katowi Odbicia,
Kobro Gallery, Lodz, Poland (2016).
Hanna Gjelten Hattrem works as a writer on art & culture, editor and translator. She holds a BA in History of Art from SOAS, and an MA in Cultural Analysis from the University of Amsterdam. Hattrem currently lives and works in Oslo in Norway.