photo
"..."
– a conversation with visual artist Sonja Arz
by Lars Nordby
Sonja Arz did her artist residency at ARV.I in August 2018, and concluded her stay with a solo exhibition in the center of Vishovgrad, a kilometer away from the ARV.I studio. ARV.I coordinated a bus full of exhibition visitors from the nearest biggest city; Veliko Turnovo. In addition Arz also initiated an open studio during the opening night of her exhibition. Arz is a painter, born in Romania, and currently lives and works in Berlin in Germany.
More information.
First Forms of Life
, 2018
Installation view /
more information
-
Lars Nordby: Sonja! It's been over a year since the last time. I wanted to do this interview with you because you really did make a special impression on the village with your solo exhibition. This was before I started gallery Heerz Tooya in Veliko Turnovo, which is now partially dedicated to the ARV.I artists-in-residence. I would like you to help me share the experience of living and working in Vishovgrad, try to capture the essence of the village, and elaborate further on any impact on your work after your stay in Vishovgrad. I know you have thoughts on this, mostly because you are one of the hardest working artists I've encountered. I remember two or three days after your arrival, the studio walls was packed with canvases.

One year later, how are you, and what are you up to these days?
Sonja Arz:
L.N: Your solo exhibition, titled First Forms of Life, in Vishovgrad was a surprise on us all. Perhaps mostly for the locals, unwittingly encountering a packed private bus with exhibition visitors from Veliko Turnovo. I remember the village mayor immediately started opening the local museum and the village church for the visitors to see. The bus was there for two hours before going back to Veliko Turnovo. What is your experience from that evening? And how was it at the open studio at ARV.I?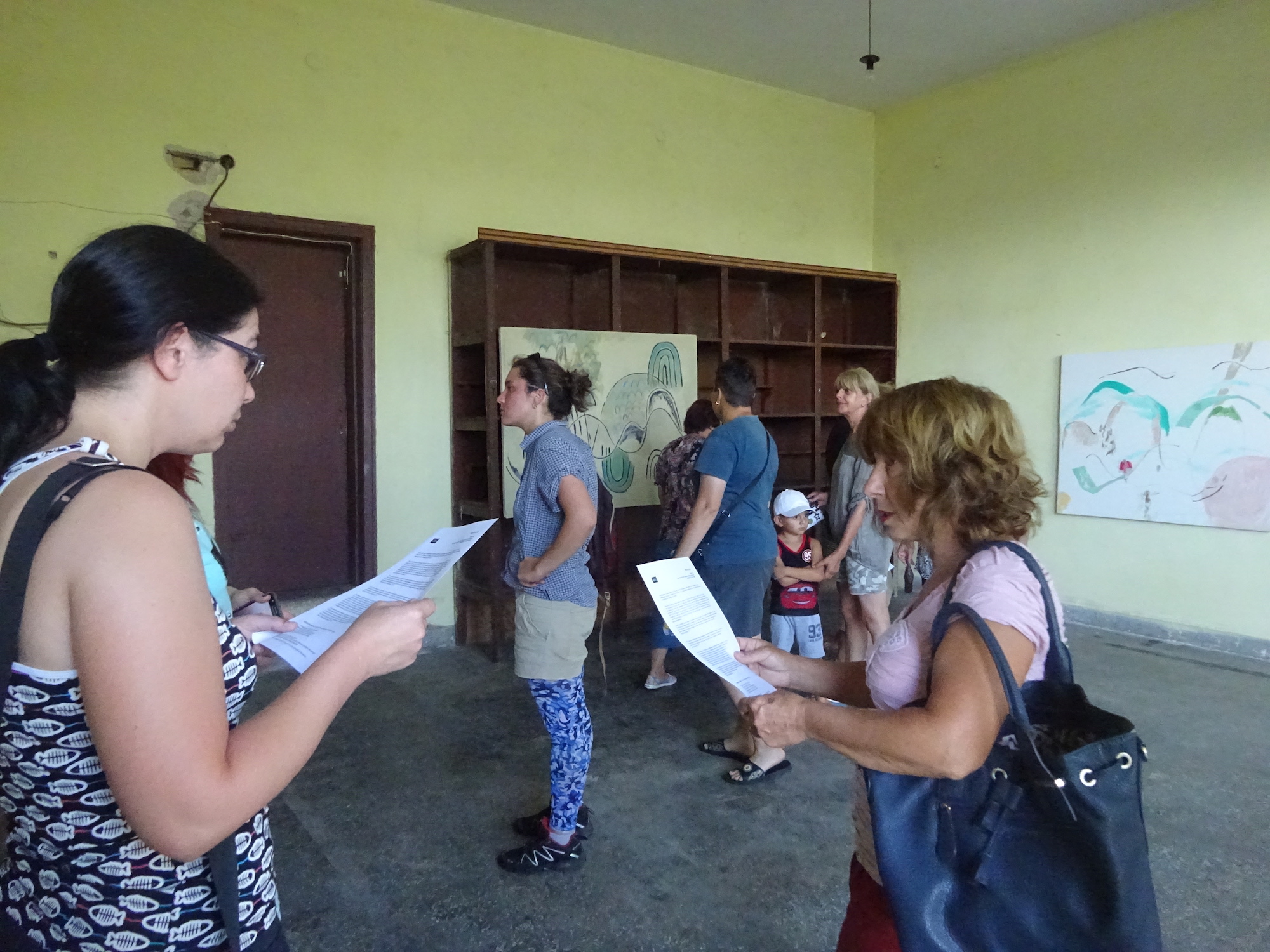 S.A:
L.N:
S.A:
_ _
Sonja Arz (b.1977, Romania) lives and works in Berlin, Germany. Arz holds a Fine Arts degree at Academy of Fine Arts in Leipzig and Academy of Fine Arts in Düsseldorf. Her recent exhibitions includes Where is Philedelphia? at Gutshaus Philadelphia; Dirty Nails at Project Space Görsch in Berlin; Light at Alpinem Gallery in Lucherne, CH; and Summen Spüren at sk_140 in Berlin. This is her first time exhibiting in Bulgaria and it is the first time ARV.I initiates an exhibition in Vishovgrad.
www.sonjaarz.com