"...a homage to cracks in general and their ability to determine or identify."
Lars Nordby in conversation with Kristoffer Zeiner Christiansen and Marius Mathisrud.
Kristoffer Zeiner Christiansen and Marius Mathisrud arrived Vishovgrad June 1 and concluded their artist-in-residency at ARV.International with
a duo exhibition at gallery Heerz Tooya June 22
. Living and working in Vishovgrad, Christiansen and Mathisrud focused on their exhibition, working immensely on a carbon fiber sculpture.
Lars Nordby: Kristoffer, this is your second time as an artist-in-residence at ARV.I, this time arriving together with visual artist Marius Mathisrud. You guys have also been working together before, or should I say, you're still working on the project Yoyo Stuff? What's Yoyo Stuff and has it had any impact on your work together at ARV.I?
Kristoffer Zeiner Christiansen: Hi, Lars! Yes, it's my second stay at ARV.I, which feels good! I see Vishovgrad as a stranger that I'm starting to get to know. The mix of people and the remote location brings something unique to it. The locals speak very little English so communication has its charm. You see people all the time, but we communicated mostly with the body language of different kinds. It's a small village so the folks you meet become familiar faces. We stayed at a location with a huge garden, a house with a kitchen, bedrooms and a bathroom. Next to it is an old barn converted into a big studio. The connection I get with my work there is different from the situation I have in Amsterdam, where I live. ARV.I is more intimate. The two times I've been here has been completely different from each other, though. Strange! I think it was because of the production time and doing a lot of things for the first time during my last stay with Marius.
Yoyo Stuff is a graphic design company started by Tobias Gulbrandsen, Marius, and myself. Today it's mainly Tobias running it, but I think Marius is still bumping in on certain projects. We started it in 2009, so its ten years old this year(!). We wanted to focus on bringing in something else, or new, into the graphic design field in Norway. I think we wanted to work more in a direction towards other types of aesthetics than the minimal traditions we often saw and experienced. It worked well and I learned a lot from the time I was there.
L.N: I remember back in 2015 when you took over the exhibition project Oslo Kunsthavn in Oslo, Norway, at the time I moved to Chicago. You invited Marius to exhibit in a group exhibition there. Was it your first exhibition together?
K.Z.C: Yes, true. Both our artistic practices have changed since then. Back then, we were both studying, Marius was in den Haag at The Royal Academie, and I was still studying Interior Architecture at Oslo Academie of the Arts. I think we always want to work together when there is a chance, and it happens from time to time. The exhibition at Oslo Kunsthavn was the first time we worked on a show together. After this, I moved to den Haag into Marius apartment and went to do my masters in Amsterdam. So, we have gone on similar paths, and we actually met studying graphic design in Oslo in 2007.
L.N: Marius, this is your first time in Bulgaria. Did your experiences in Vishovgrad meet your expectations?
Marius Mathisrud: OMG it sure did! First, and most importantly, the studio is just amazing –spacious, bright and simply a dream to work in as a sculptor. It's such a luxury, especially compared to the places I've been the last few years (Oslo, Den Haag, and Berlin), where space is very much a commodity occupied by people trying to make more money. I love that studio, and I spent most of my time there while at the residency. The village is small and intimate, and the people you meet are always nice and keen to have a chat, even though the language barrier sometimes make that a bit difficult:)
L.N: You planned the exhibition at Heerz Tooya, and a particular sculpture, for quite some time in advance before your arrival. Your planning paid financially, receiving a great deal of support. Could you share some experiences in the actual making of the sculpture at the ARV.I studio?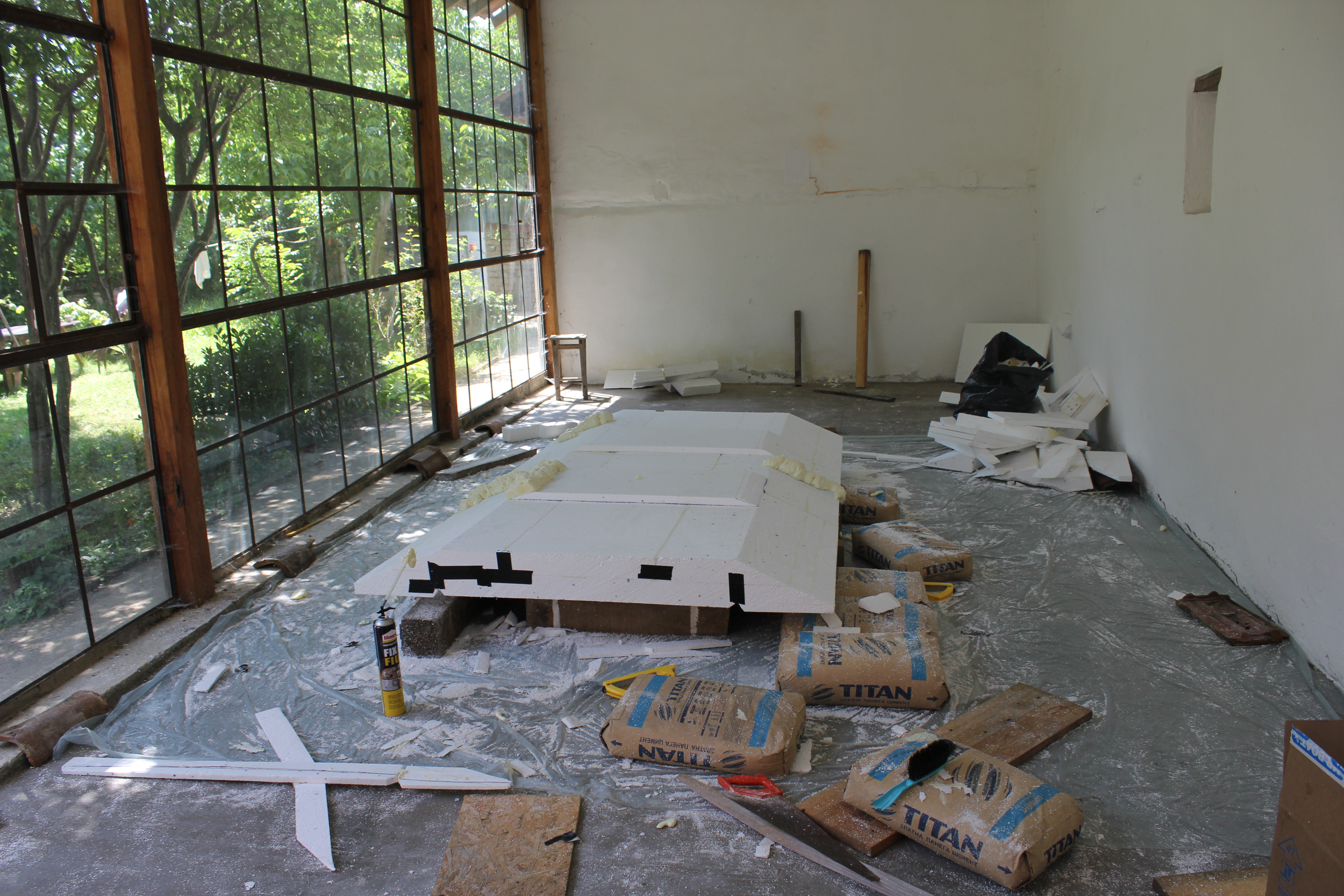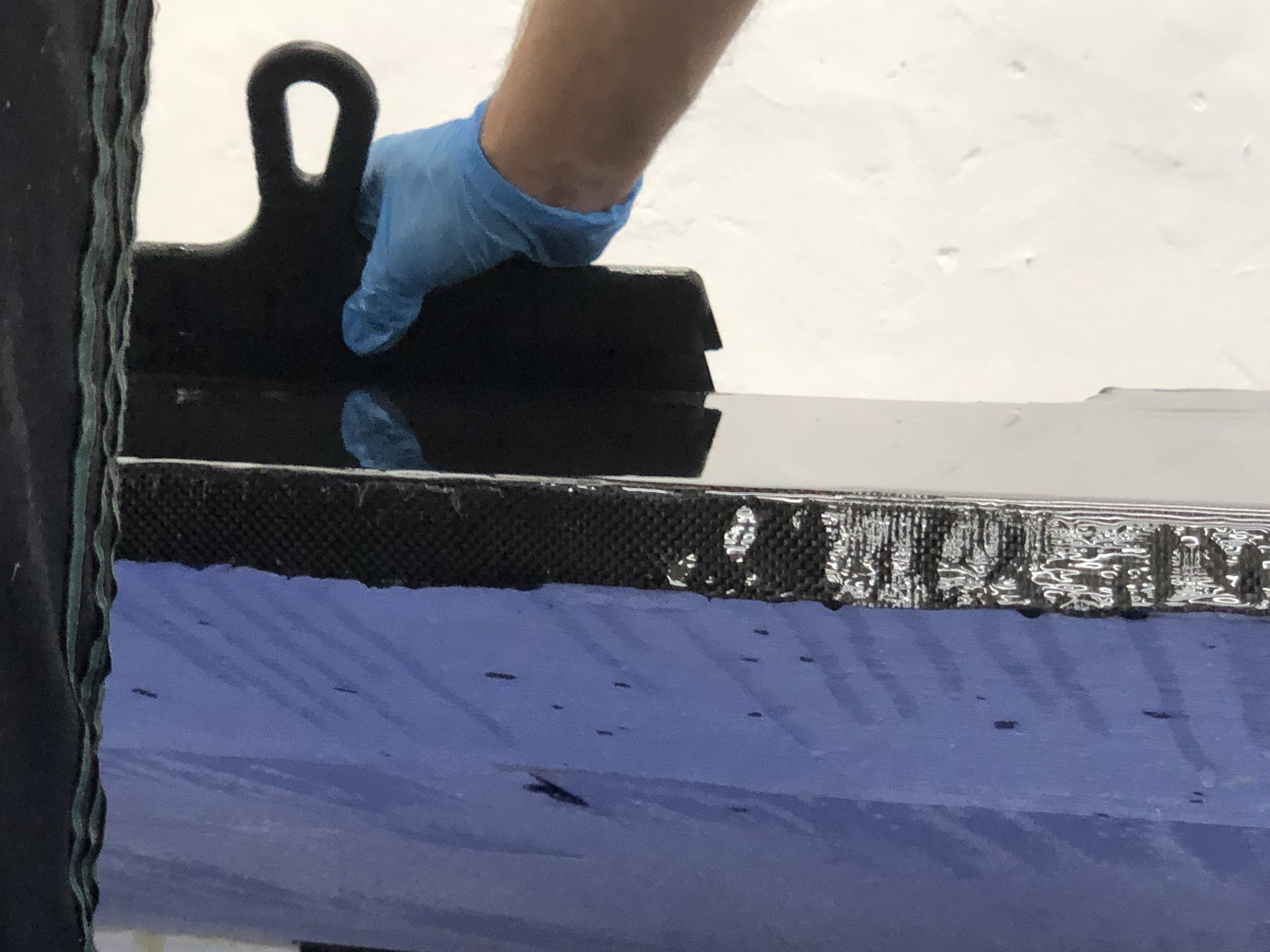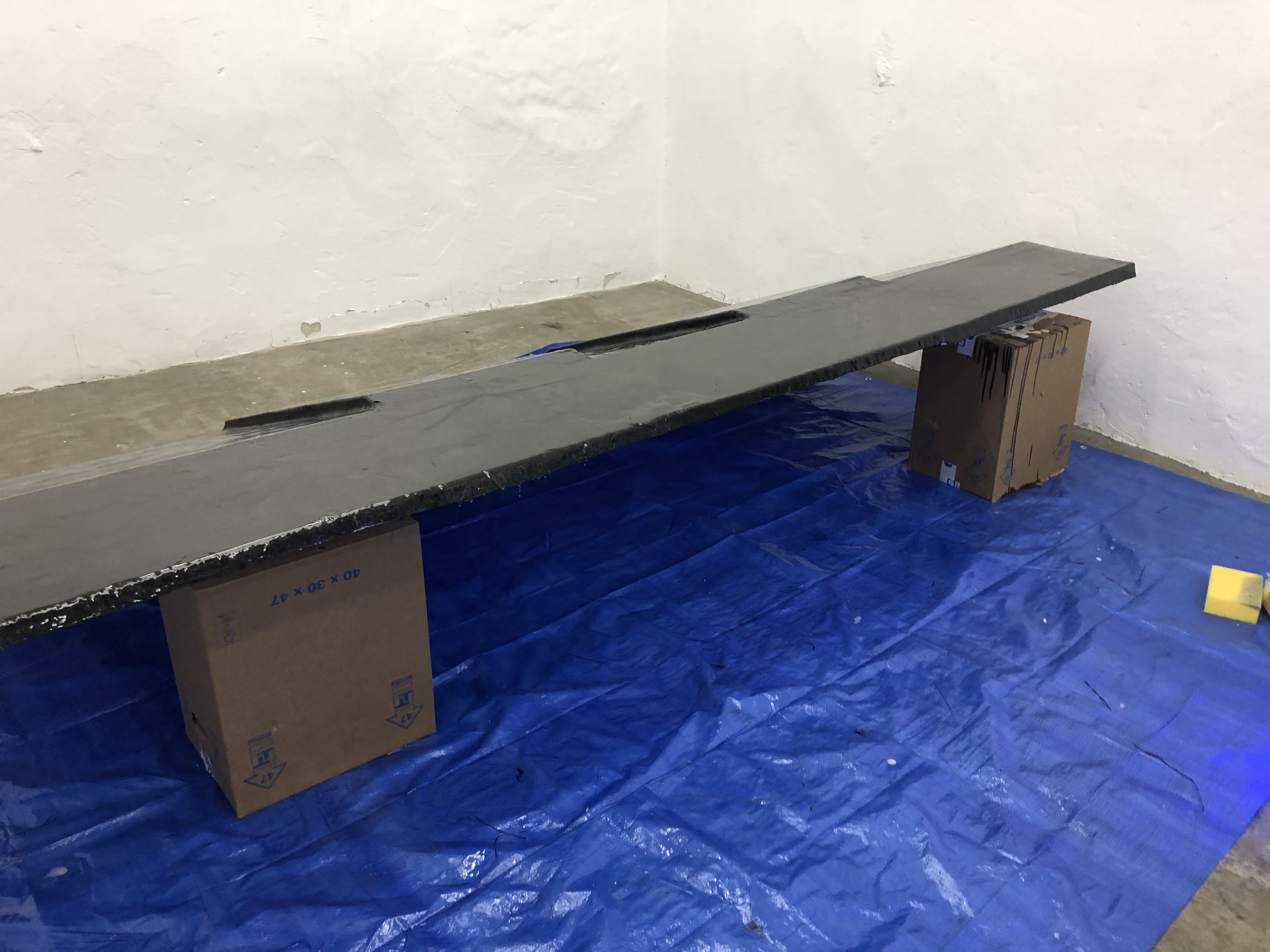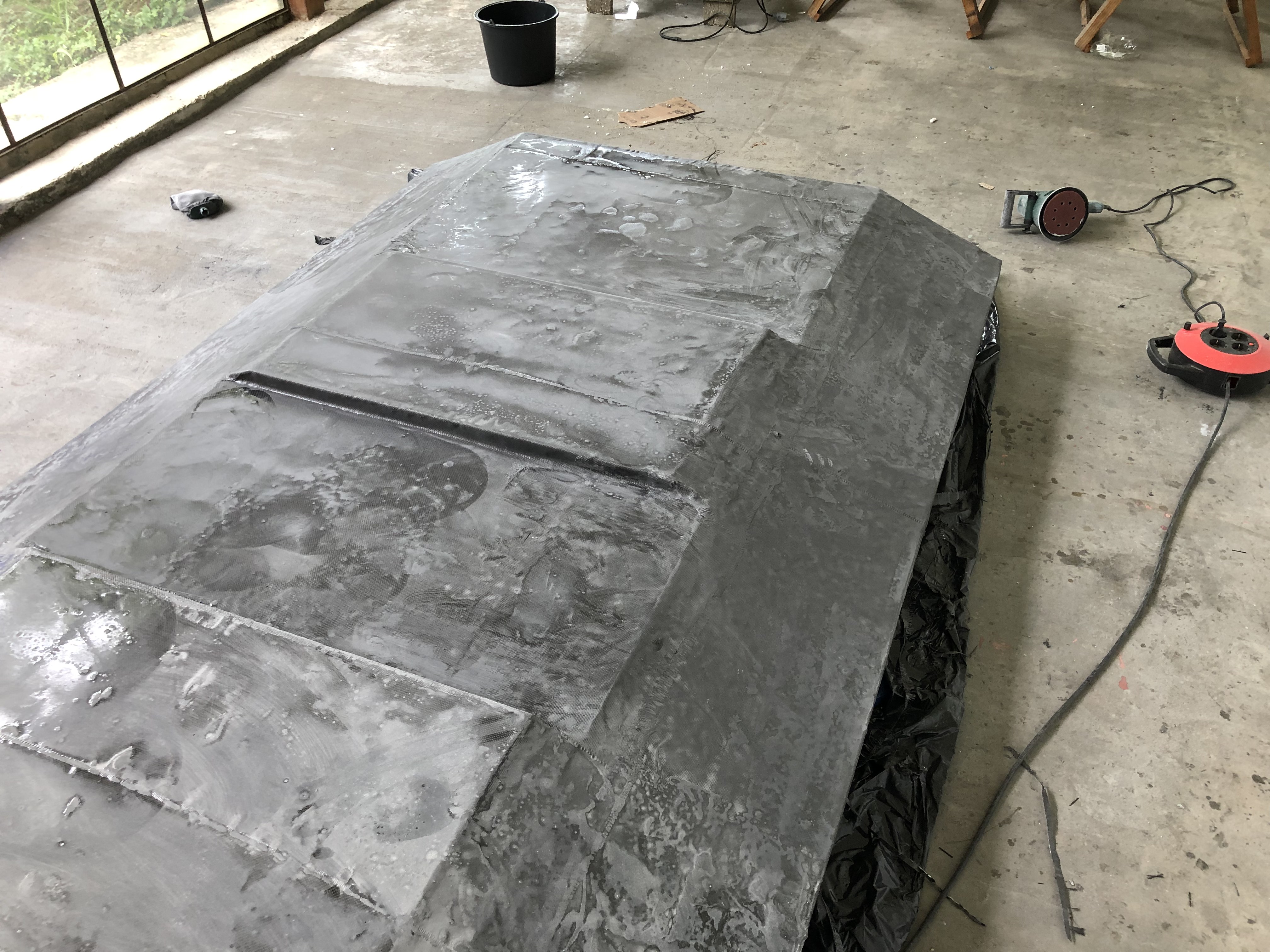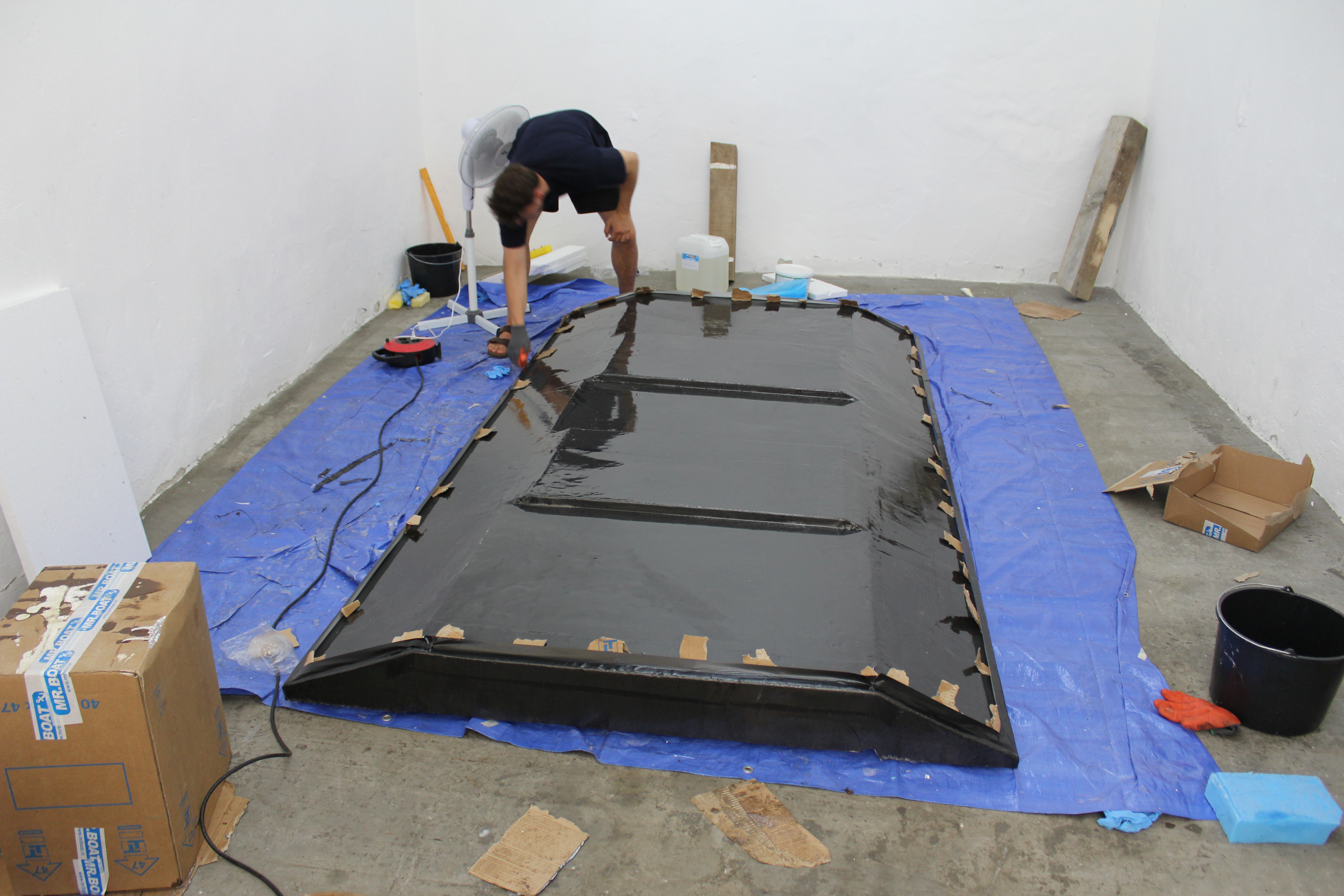 M.M: We were both keen to explore the material of carbon fiber-based on both the conceptual identity of the matter carbon (that all living things on the planet earth are carbon-based), and of course the structural properties which are; moldable, super hard, super tough and super light, hence also the extensive use of it in performance appliances like race cars, snowboards, bikes and supercars. We have been working with resin and other types of fibers before, but it was very special to finally be able to work with real carbon fiber, as this is such a delicate but yet so powerful material. We have to thank Kulturrådet and OCA for the support as we could never have been working with this if it wasn't for their help.
L.N: The zeitgeist of your exhibition at Heerz Tooya, titled I, Burning Man, tend to dribble a human behavior towards our irreversible rise of pollution, as bypassers, sipping our cocktails under the shadow, looking at the world being choked to death by a plastic wrapper. Yet, there is a parallel universe we are invited to in your exhibition. Having a closer look at your carbon fiber sculpture, there are some fragile, almost crackling traces, some sort of abjection from of our ignorance. Looking at it from a distance, as a whole, it's easy to miss these glimpses of, dare I say, hope. To what extent is the exhibition a purely aesthetic endeavor? And how does that relate to, in terms of Carbon, everything?
K.Z.C: Well, to me, all of this can go pretty deep down into many, many things. I am then talking about the aesthetic endeavor, alongside the concept and the physical presence, which we hope gives the viewer a real feeling of looking at something close to a ready-made, and not necessarily only an artwork referring to itself. So, for example, the topic of pollution, which concerns all of us, comes in second place, so to speak, because carbon is as non-human as it is human- It's just life and death as we know it. The cracks in the carbon sculpture are maybe a homage to cracks in general and their ability to determine or identify. I would question if anything can be a purely aesthetic endeavor? The cracks tell you something about the object, and the material, it questions its authenticity of what it is or was before it arrived at Heerz Tooya. I would say the coalition is a pure objective endeavor, where the aesthetic is a slave in this.
L.N: A truly epistemological quagmire.
M.M: We are great at looking at our past as evidence and calculating our next move based on those past experiences. A major flaw though is that we have a tendency to decide what evidence, or past, we want to derive from. A problem could be right in front of us, and we might literally CHOOSE not to see it. That's a flaw. Then again, many want to see these deliberately 'overlooked' evidence, and act upon it. Maybe the 'flaws' and cracks on the backside of this sculpture are for that kind of people –the ones that won't blindly agree upon the consensus just for the sake of convenience? On the other hand, these cracks could be a purely aesthetic choice to lead the perceiver into the topic that we are discussing, which evidently has the same effect. As an artist that is my aim, how it came to be is secondary to the feeling one gets by experiencing the piece.
L.N: A luring treats into that quagmire. I wish we could talk more. Perhaps we could do a volume 2 in the nearest future, at least within thirty years before shit really hits the fan.

One more thing, what would you recommend future ARV.I artists or Bulgarian visitors in general? Any warnings? Any delights?

M.M: First thing I would do would be to invite myself over to your place to get some homemade gnocchi:)
I wish we had rented a car though, even though we were able to borrow the neighbor's car from time to time, as it would be great to be a bit more mobile as the studio is fairly secluded. Then again, we got to spend a lot of time in the studio, which I personally found extremely fruitful!
...and yes, step up your chess-game! That's what's going down at the piazza!!!
/ /
See the exhibition, titled I, Burning Man, at Gallery Heerz Tooya.
Marius Mathisrud (b. 1987, Norway) lives and works in Oslo, Norway and Berlin, Germany. He holds a BFA from The Royal Academy of Art in The Hague in the Netherlands (2017). His practice consists of sculpture, installations, film, and poetry, assembled in various constellations. Mathisrud's video works include Garden of Delight shown at Art Rotterdam (NL) in collaboration with NESTruimte (2019); FreeDOOM Fighter shown at Gallery CC in Malmö, Sweden (2018); Høstutstillingen at Kunstnernes Hus in Oslo, Norway (2018); and gallery W139 in Amsterdam (2017). Five of his other video works has been exhibited by the Artist Initiative VHDG in the Netherlands (2018). He was one of the selected artists that NESTruimte (NL) curated into a video-show program shown in the main area of the Netherlands' biggest festival, Lowlands Fest. Mathisrud also works with other artists in Oslo and Amsterdam, among others, the Danish artist Oscar Juul-Sørensen, under the name CleanTV. They have had several exhibitions together since their collaboration started in 2016, mainly based on their linear-online-art-tv-channel CleanTV.live. In may 2019 they premiered their new movie entitled The Voice Is Loudest In Your Head at ROOTS Film Festival in The Hague in the Netherlands.
www.mariusmathisrud.no
Kristoffer Zeiner Christiansen (b. 1987, Norway) lives and works in Akershus, Norway and Amsterdam in the Netherlands. He holds a BA from the Oslo National Academy of Art, Norway (2015) and an MA from the Sandberg Institute in Amsterdam, Netherlands (2017). His background originates from architecture and design. His artistic practice evolves around sculpture and site-specific installations, often produced in plastic and other man-made materials. Zeiner Christiansen's work focuses on the notion of identity and the communicative functions of objects. His performative works include collaborations with, among others, Ivan Cheng (AUS) and Nora Baron (ESP), and has recently shown works at the gallery Juliette Jongma and gallery Bologna in Amsterdam, Netherlands (2019). He currently runs JohnJohnBooks Publishing in Amsterdam (2018-), and has previously worked on a commissioned installation in the metro station Amsterdam Noord (2017); and worked on the project, titled Project for Fishermen, in Bahrain under the direction of architect Anne Holtrop and the cultural council in Bahrain (2016). In 2019 Zeiner Christiansen will present new work at Amsterdam's oldest church Oude Kerk and at gallery Young Stedelijk in Amsterdam in Netherland. This is his third exhibition in Veliko Turnovo in Bulgaria arranged by ARV.International.
www.kristofferzeiner.com